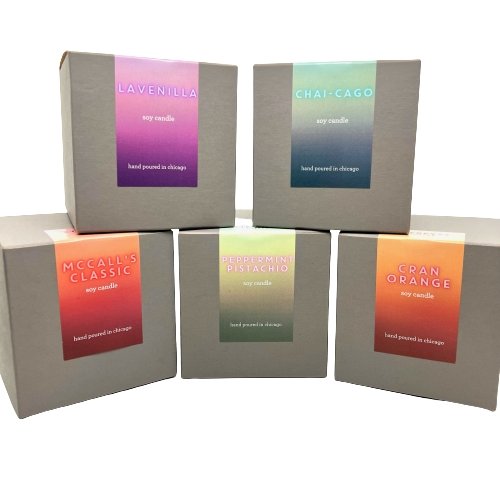 You love the smell of our store when we are making toffee….now you can take that scent home!
We have worked with local candle maker RAPWAX and recreated the scent of 8 of our most fragrant toffees. Your home will smell amazing with these incredible candles!
The candles are 100% soy and have approximately 50 hours of burning time.
McCall's Classic - Caramelized Sugar, Brown Butter & Toasted Almond

Lavenilla - Lavender, Vanilla Bean, White Chocolate

Chai-cago - Clove, Ginger, Cinnamon, Nutmeg, Cardamom

Cran-Orange - Cranberry, Orange, Sea Salt 

Peppermint Pistachio - Peppermint, Mocha, Pistachio 

Espresso - Rich Espresso, Dark Chocolate

Cinnamon-Chipotle - Ground cinnamon, smoky chipotle

S'Mores - Marshmallow, campfire, milk chocolate